A Prairie Style Home With a Grand Interior
A house unlike any other in America sits quietly upon a gentle slope — defying all normal sense of scale amid long, swaying prairie grasses.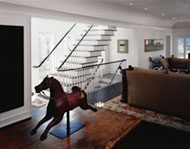 French country simplicity and inspired use of a South African/Dutch ceiling profile give this house the grandeur of an estate with an intimacy of scale that enfolds all visitors. From the heavy texture on the exterior walls to graceful curves of the ceilings and the stylized kitchen and family room, Eiesland's sensitive touch can be appreciated. The central staircase is breathtaking: a series of boxes that seem to defy gravity, presenting the builder a true challenge — and masterful result.