Home Designed for a Client With a Fantastic Art Collection
Tucked away on a quiet street on the North Shore, this elegant home combines the strength of modern design and materials with the beauty of classic proportionality.
Originally designed for a single occupant it became a backdrop for an extraordinary art collection organized along a two—story gallery space. The new owners turned to Eiesland — the original builder —to preserve the integrity of the space while significantly reshaping and adding to the home, in order to accommodate a larger family.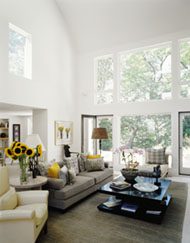 The result is the best of both worlds: a showcase for art with room to spare for two home offices — and lots of toys.